My IM L emailed me saying they "extracted" (as she says, I say retrieved)14 follicles. I don't know if she means eggs of what. I'll figure it out when I get there.
Transfer will most likely be friday, mabey thursday.
This was my last day of work before the transfer. I didnt get much done, but thats how it goes this time of year. But I did go out with a bang, thanks Ronnie!
and for everyone else reading-
Ronnie is a good friend of mine. She is also a co-worker. we gab all day inbetween working. I have told her all about the surrogacy and my IPs and everything else. I am leaving tomorrow for my transfer. She had to get supplies for work, and while she was out got me this and had it waiting for me in the breakroom. I won't get to see her till I get back next thursday the 1st, will miss her :P
she got me a powerpuff girl baloon, she knows I love PPG, I have them tattooed on my right upper arm. it said happy birthday, but she wrote adventure over birthday in permanant marker, so it says "Happy Adventure" they dont make happy surrogacy baloons!
she keeps telling me I am going to come back preggo for sure, lol.:prego: (SMO policy "~think positive~")
she also got a pink stuffed bear, my fav color. hand sanitizer cause I am flying, don't want the germs! and a lint roller, so I can look presenatble, no lint or fuzz!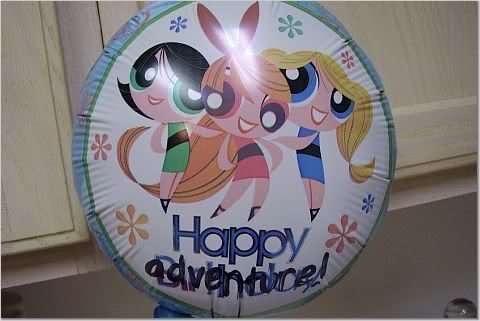 will keep updates as I can. and pics too