well the day is coming to an end, and I have to say it was a good one. My 25th birthday.
I got to sleep in this morning, thanks to my hubby Paul. He also got me 2 cards, one from the girls and one from him. They were both cute. He also got me another priceless gift, we are in the trial mode of it right now. Thank you hunny. We went to see "Hancock" at the Star Cinema Grill, and ate wings, while my SIL T watched the girls.
I was also very surprised when I received a flower delivery around 2:00. I was sure my mom sent flowers since she hadn't sent a card, or a gift, and she usually does that. No, they were not from her, they were from my new IPs F & L. They are so wonderful, and the arrangement is so beautiful. Thank you Thank you!!
see here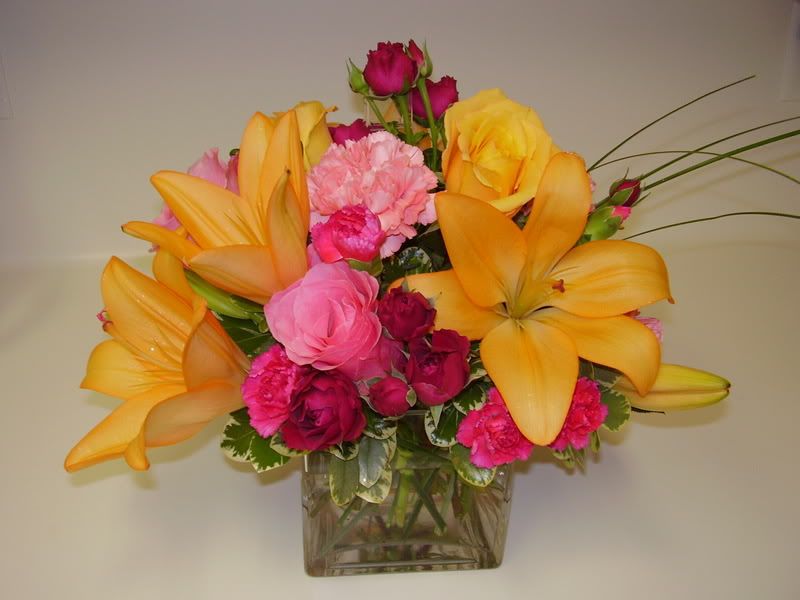 My dad sent me a b-day card, with a gift card to Lowes. I am wanting to get a new gas stove in the near future and the $ will go towards that.
MY MIL came over with cup cakes, a single tres leches for me, and a "money tree" with $20 in dollar bills strung on the leaves.
My SIL also came over and got me one of the wipe off boards, mon - fri, just like the one she has that I had been eying and wanting for awhile.
and thanks to all for your Texts, myspace comments, and messages!! I heart you all for thinking of me on my birthday!!
~Amanda